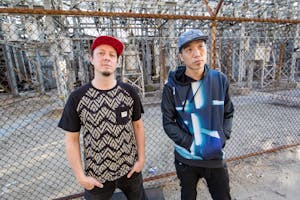 Break Science
Marvel Years, K+Lab, Yogamuffin, Hypnos
The Broadberry
Richnmond
,
VA
$25.00 - $30.00
Tickets At The Door
.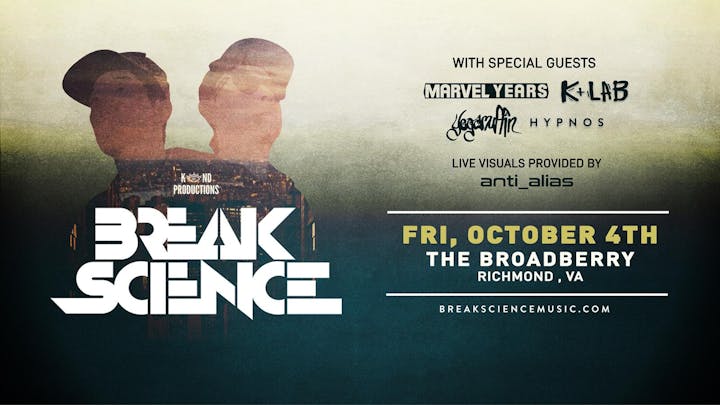 Pioneers of Colorado's electronic music explosion, Break Science soars ahead of the curve, with a decade-plus trendsetting the game. Steeped in filial traditions of East Coast hip hop, and futuristic soundwaves of the now, the Denver-based duo continues to scale creative mountains. Comprised of keyboardist/producer/jazz pianist Borahm Lee (Pretty Lights Live Band) and funk/hip-hop drummer extraordinaire Adam Deitch (Lettuce), Break Science traces roots to the embryonic seeds that flowered the electro-soul movement. The pair have consistently ascended the cutting edge of live dance music culture with an array of blistering live performances in any number of settings or configurations.
Borahm Lee's masterful use of Ableton Live and prowess atop an assortment of analog synths, Fender Rhodes, and digital plug-ins propel Break Science's towards the new frontier. Lee has worked with cultural icons like Kanye West and The Fugees, he is well versed in reggae/dub vibrations. Adam Deitch keeps it thorough with classic boom-bap, and inventive patterns that employ his rhythmic wizardry, be it electronic drum programming or a traditional trap-kit. Deitch has worked with hip-hop legends like Redman, Pharoahe Monch and members of the Wu-Tang Clan, he's manned the drum seat for jazz luminaries like John Scofield (Uberjam). Both members of Break Science bring classic hip-hop, dub, drum n' bass, dancehall, jazz, funk, and genre-defying elements to coalesce in modern electronic soundscapes.
The sum of these parts has evolved Break Science into an amalgam of styles authentic, and an artistic aesthetic wholly their own, heard in the highest of definition on their titanic 2018 full-length LP Grid of Souls. For ever-further explorations in sound, the duo will form like Voltron, combining with several members of Lettuce for the wildly-kinetic Break Science Live Band. Whether the essential dynamic duo or a full-fledged ensemble, they continue to break down the science & move the arena, one gridlocked soul at a time.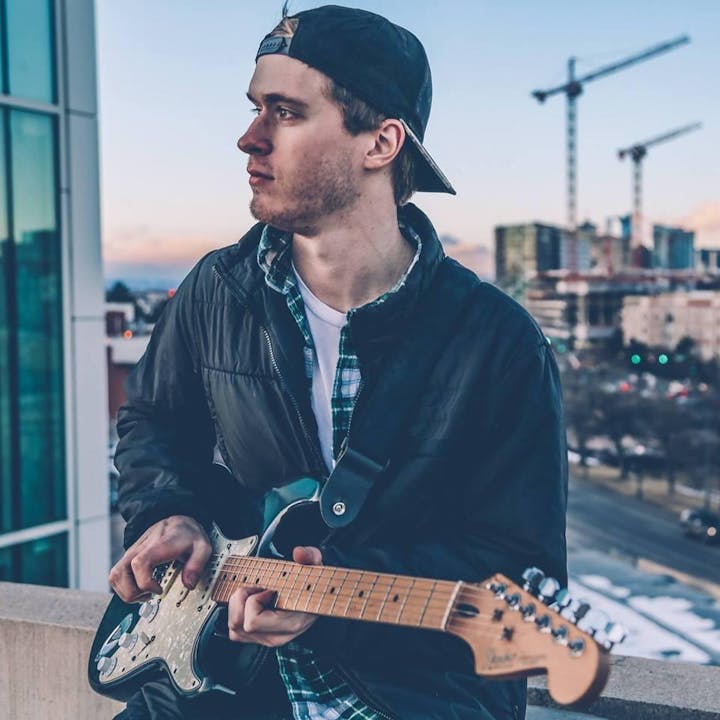 Cory Wythe, the producer and guitarist better known as Marvel Years, has found a welcome place for himself within the increasingly popular glitch-hop / electro-soul dance music scene. His approach to blending electronic beats and shredding soulful guitar on his original tracks and remixes creates a sound that is a unique hybrid of EDM combing glitch, retro-funk, classic rock, soul, jazz and hip-hop.
Wythe has released a discography of over 50 songs, including three EP's and numerous remixes and singles. He joined the touring circuit in 2013 at the age of 19 and since then has played alongside some of the scenes top artists including Bassnectar, Griz, Gramatik, Lettuce, and many others. The summer of 2016 marked his biggest show to date, playing direct support for grammy-nominated artist "Pretty Lights" at the legendary Red Rocks Amphitheater in Colorado. Other notable performances include support for Bassnectar and Pretty Lights at "Basslights 2015", two sets at Electric Forest 2015, and many others.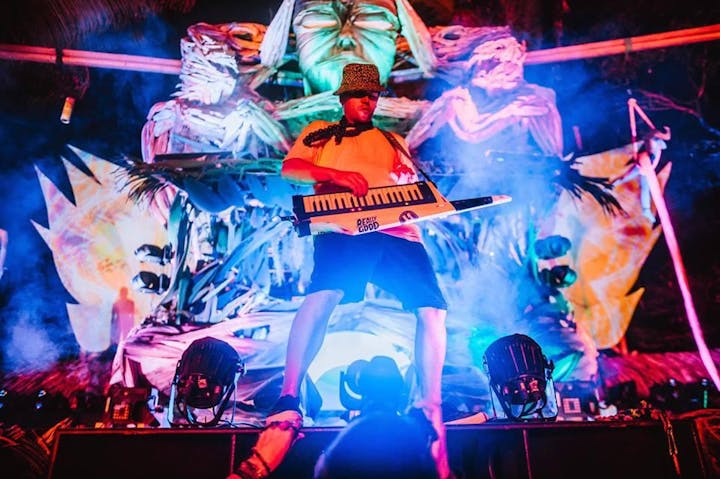 New Zealand master of intergalactic funk, K+LAB, has been rocking dance floors and bringing the heat to the masses since he first burst onto the scene with his debut album "Spacedirt" in 2013. An ever-expanding galaxy of FUNK, K+Lab's sound is always absorbing and incorporating a seemingly endless array of influences and vibes – the head-nod aesthetic of hip-hop, the futuristic techniques of Glitch-hop and the fury of drum n' bass – all tied together by an orbital pull of all things funky. Unlike anything else occupying the sonic landscape today, his music Armed with his signature keytar, K+Lab has been touring relentlessly for years, conquering dancefloors across Canada, Australia, USA, South America and his native New Zealand.
​2016 brought release of his sophomore album, The Worldy's (Released on Gramatik's Lowtemp label), his 2nd album to be nominated for Electronic album of the year at the New Zealand Music awards which was followed by a slew of successful singles including "Clap Ya Hands Now," a collaboration with fellow funkmeister Stickybuds, which held the #1 spot on the Beatport charts for months and was picked up for the Spiderman Homecoming Trailer. A steady release schedule and an ear for Original, fresh and fat productions has solidified K+Lab as the best selling Glitch Hop artist of 2017 on the Beatport charts. The momentum from these releases powered the motherships thrusters and set the Captain K+Lab off into orbit on a long headline tour in support of The Worldy's album. His incredible, tight live performances have also garnered high profile slots at some of the world's most lauded dance festivals like Oregon Eclipse, Shambhala Music Festival, Breakfest, Motion Notion, Rainbow Serpent, Northern Bass and Earth Frequency. Keep your eyes open and your ears ready for K+Lab, a sonic supernova burning bright in an infinite galaxy of sounds.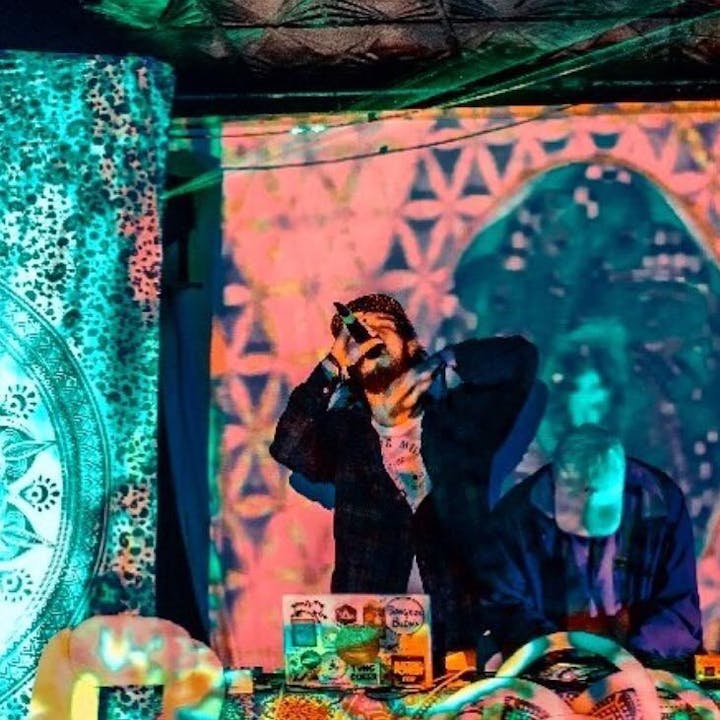 Yogamuffin weaves a diverse blend of hip hop beats, deep dub, experimental sound design, spiritual samples, and rap vocals into treats for the ears & soul.
Venue Information:
Parking is available in side lot (by Exxon)

No Smoking/Vaping permitted anywhere inside venue

Bags/purses will be checked at the door.

Must have ID for entry

If you do not have access to a printer, we can scan ticket from your cell phone. Be sure to have your brightness turned all the way up at the door.

Children under 3 years old are Free.

Kitchen is open during all hours of operation.

Appropriate clothing required at all times (tops and bottoms covered).

Venue Information:
The Broadberry
2729 West Broad Street
Richnmond , VA