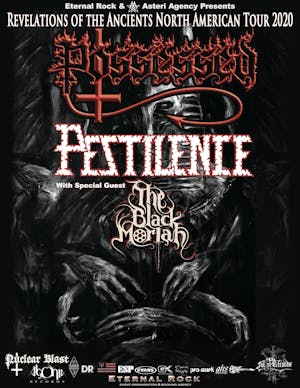 Broadberry Entertainment Group Presents!
Possessed
Pestilence
The Black Moriah
The Broadberry
Richnmond
,
VA
.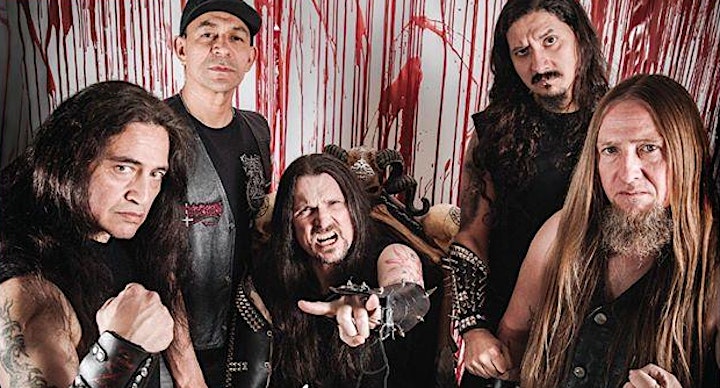 Possessed
There was a time in which genuine power was felt erupting from the sonic landscape that is now referred to as "old school" death metal. As with most newly developed forms of art, at its genesis it was filled with a fresh and vibrant energy and was virtually unsaturated by musicians. It was the mighty POSSESSED who initially breathed life into this new and exciting genre. With writing that started in 1982, the first official death metal band created the now classic record "SEVEN CHURCHES" and established the face of the genre permanently. Even DEATH's late guitarist and mastermind Chuck Schuldiner who is sometimes credited with creating the genre, was adamant about the album's influence upon him. Sadly, like with many artistic pioneers, it was very early on in POSSESSED's existence that a grand tragedy struck which would put the band on hiatus for almost two decades. After many years of healing, education, renewal, and eventually new writing, there is now a resurgence of life, and the rebuilt, and polished POSSESSED are due to return with their long awaited album "REVELATIONS OF OBLIVION" this Spring, 2019.
As time has passed the line-up for the band has shifted and after tireless striving for perfection, the ultimate combination has been settled upon. POSSESSED is now original founder and song writer Jeff Becerra (Vocals), Daniel Gonzalez on guitar (Nailshitter, Gruesome), Claudeous Creamer on guitars (Dragonlord, Serpent, Girth), Robert Cardenas on bass guitar (Coffin Texts, Masters of Metal, Agent Steel, Malice, Engrave), and Emilio Marquez (Brainstorm, Sadistic Intent, Engrave, Brujeria) on drums. With the majority of the album written by founder Jeff Becerra and his partner in crime Guitarist Daniel Gonzalez, the new tracks manage to hang on to what all metal-heads hope for with their favorite artists; a consistent sound. It is a guarantee that fans will know immediately upon listening to "Revelations Of Oblivion" that this is in fact, the familiar sound of POSSESSED.
The album is adorned with artwork by Polish artist Zbigniew Bielak who has created artwork for bands like Absu, Deicide, Ghost, Gorguts, Paradise Lost, and the like. The painting on the cover radiates a complex, demonic, hellfire ridden feel. With elements of the actual lyrics strewn throughout, the image tells a very detailed story. Symbolic and abstract images of cathedrals, horrifying demons, and gothic stained glass windows are detailed magnificently. Though we've seen enlightened transformations throughout humanity over the past several decades, there still remains a hovering horror that can be found inside most standardized religions; often appearing to preach love and modesty, though many believe they actually demand a sort of violence and lust for power that will one day be the undoing of humanity as we know it. It is with this artwork and the underlying message of the lyrics that POSSESSED hope to bring back the notion of true fear that was once associated with the idea of evil.
Tracks like "No More Room In Hell" describe a hell on earth where there is no more physical God, Satan, or afterlife to discern right from wrong, only the leftovers of humanity existing in torture and plague. "The Word" goes more in depth concerning the less tangible ideals of a religious fallout such as the loss of scripture, and how humanity reacts when there is no longer a "word" of God to bestow boundaries upon them. Songs like "Ritual" and "Graven" focus on more specific notions of hatred, religion, and what it means to engulf oneself within these things.
Co produced by Daniel Gonzalez and Executive produced by Jeff Becerra, the album was recorded at NRG studios, Titan Studios, and mixed & mastered by the likes of Peter Tägtgren (Hypocrisy, Pain, Bloodbath) at Abyss studios in Sweden. Becerra comments: "Working with Peter was a fantastic experience. We put a great deal of thought into who we wanted to produce our new album. Since we hadn't made an all-new material release in well over 30 years, it was essential that we found the right person. Peter's name kept coming up over and over, and after speaking with my bandmates they all really liked Peter as he is more organic, and somebody we felt would fit in well with our process." Summertime and festival season are right around the corner, ushering in new opportunity for live shows and tour cycles for the band. With exciting announcements drawing near, POSSESSED is ready to take on the road. Crawling out of a pale inferno of creation, life, loss, and injury, the ensemble has returned to reignite the flame of true Death Metal. Prepare yourselves for you are soon to behold "Revelations Of Oblivion" as the harbinger of a resurrected musical era.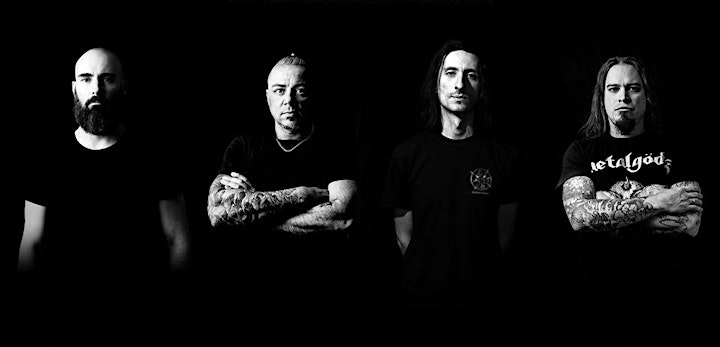 Pestilence
Pestilence is a legendary death metal institution from the Netherlands; innovators that revolutionized death metal, altered what was considered "progressive" and set new standards with every album they ever released, creating a body of work that cemented the group in metal's history.
Groundbreaking albums i.e "Malleus Maleficarum", "Consuming Impulse ", Testimony of the Ancients" and "Spheres" inspired generations of bands all over the world and altered the reality for hundreds of thousands of listeners, while taking them on an audio journey of unprecedented dimensions with every new studio release. The Ancient ones are a testimony of the past, intertwined with the present and the future, imitated through the years by many but never replicated. Pestilence redefined the genre that started to feel monotonous and prosaic in the beginning of the 90's and continue to do so to this day.
"HADEON", the new studio album by PESTILENCE was released in March of 2018, gaining astonishing reviews from the worldwide media! Stream the album here: https://www.youtube.com/watch?v=brrr5WT8vSA
www.pestilence.nl
PESTILENCE is:
Patrick Mameli- lead / rhythm guitars, vocals
Edward Negrea- bass
Rutger van Noordenburg- lead/rhythm guitars
Septimiu Harsan- drums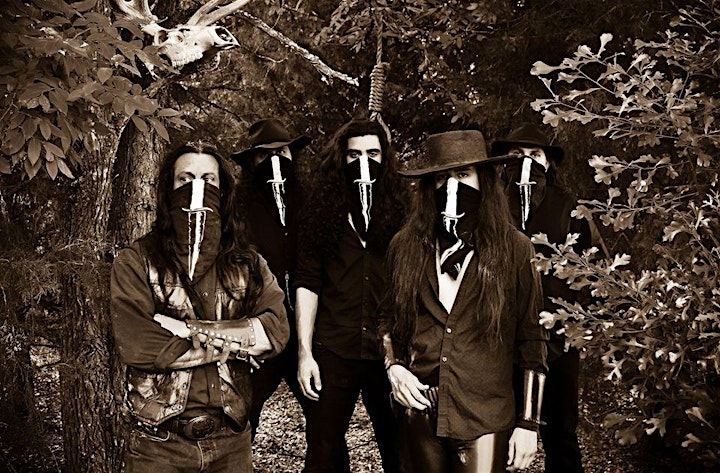 The Black Moriah
Thrashed, Burnt, and Branded, The Black Moriah is a horde of highwaymen, hell-bent on Vulture Culture. Influenced by hymns buried deep beneath dried earth, T.B.M. drinks the spirits of past greats Bathory, Kreator, Motorhead, Slayer, Venom, and other Kings as they frequent dens of iniquity, homes of misfortune and girls of ill-repute.
Venue Information:
Parking is available in side lot (by Exxon)

No Smoking/Vaping permitted anywhere inside venue

Bags/purses will be checked at the door.

Must have ID for entry

If you do not have access to a printer, we can scan ticket from your cell phone. Be sure to have your brightness turned all the way up at the door.

Children under 3 years old are Free.

Kitchen is open during all hours of operation.

Appropriate clothing required at all times (tops and bottoms covered).

Don't get ripped off! The only authorized seller of tickets for this event is Broadberry Entertainment Group. You can safely purchase tickets at the lowest available price on our website or at our box office, open Monday - Friday from 10am-4pm. Broadberry Entertainment Group is not responsible for tickets purchased in any other locations and will not honor, exchange, or refund counterfeit, duplicate or invalid tickets.

Venue Information:
The Broadberry
2729 West Broad Street
Richnmond , VA