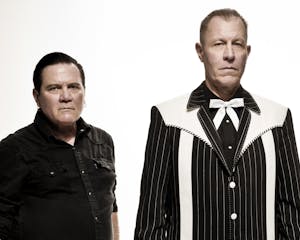 Reverend Horton Heat
The Delta Bombers, Chrome Daddy Disco
The Broadberry
Richmond
,
VA
$20.00
Tickets At The Door
.
Revered Horton Heat
Loaded guns, space heaters, and big skies. Welcome to the lethal littered landscape of Jim Heath's imagination. True to his high evan- gelical calling, Jim is a Revelator, both revealing & reinterpreting the country-blues-rock roots of Ameri- can music. He's a time-travelling space-cowboy on a endless inter- stellar musical tour, and we are all the richer & "psychobillier" for get- ting to tag along.
Seeing REVEREND HORTON HEAT live is a transformative ex- perience. Flames come off the gui- tars. Heat singes your skin. There's nothing like the primal tribal rock & roll transfiguration of a Rever- end Horton Heat show. Jim be- comes a slicked-back 1950′s rock & roll shaman channeling Screamin' Jay Hawkins through Buddy Holly, while Jimbo incinerates the Stand- Up Bass. And then there are the "Heatettes". Those foxy rockabilly chicks dressed in poodle-skirts and cowboy boots slamming the
night away. It's like being magically transported into a Teen Exploita- tion picture from the 1950′s that's currently taking place in the future.
Listening to the REVEREND HOR- TON HEAT is tantamount to injecting pure musical nitrous into the hot-rod engine of your heart. The Reverend's commandants are simple.
ROCK HARD,
DRIVE FAST,
AND LIVE TRUE.
And no band on this, or any other, planet rocks harder, drives faster, or lives truer than the Reverend Horton Heat. These "itinerant preachers" actually practice what they preach. They live their lives by the Gospel of Rock & Roll.
From the High-Octane Spaghet- ti-Western Wall of Sound in "Big Sky" — to the dark driving frenetic paranoia of "400 Bucks" – to the brain-melting Western Psyche- delic Garage purity of "Psychobilly
Freakout" — The Rev's music is the perfect soundtrack to the Drive-In Movie of your life.
Jim Heath & Jimbo Wallace have chewed up more road than the Google Maps drivers. For twenty- five Psychobilly years, they have blazed an indelible, unforgettable, and meteoric trail across the globe with their unique blend of musical virtuosity, legendary showman- ship, and mythic imagery.
"Okay it's time for me to put this loaded gun down, jump in my Five- Oh Ford, and nurture my pig on the outskirts of Houston. I'll be bring- ing my love whip. See y'all later." - Carty Talkington Writer/Director
Rev your engines and catch the ser- mon on the road as it's preached by everybody's favorite Reverend. Don't forget to keep an eye out for the 11th studio album from REV- EREND HORTON HEAT, boldly ti- tled Rev, due out January 21st.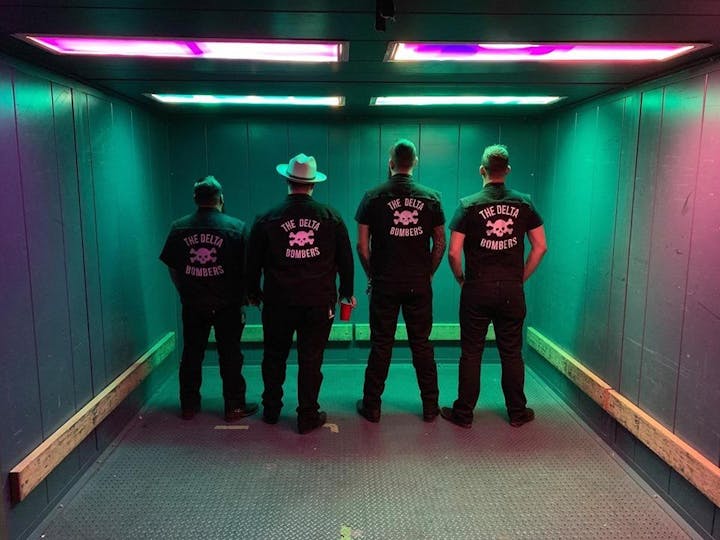 The Delta Bombers have smashed stages all over the world since 2008 with no plans of stopping. Started by four teenagers in Las Vegas, they're driven by a hybrid of 50's rock and roll fused with blues and the most exciting elements of rockabilly. The band's haunting but powerful voice Chris Moinichen constantly keeps the songs fresh. Andrew Himmler on guitar often drives the songs with guitar singes while Greg Garcia on Stand-up Bass and Kirk Highberger on Drums sway the dynamic of the band up and down. The Delta Bombers continue to take on month long tours of new and distant places such as Russia and the Czech Republic supported by four studio albums including their newest self-titled album "The Delta Bombers" (2014). The Bombers have played some of the most renowned Rockabilly and Psychobilly festivals including Viva Las Vegas, Psychobilly Meeting (Spain), Rockalavera (Mexico), Sjock (Belgium) and High Rockabilly (Spain). What started as a teenage dream has now come to fruition as a worldwide rock and roll expedition, one that should be witnessed by anyone who considers themselves a fan of music! The Delta Bombers are playing at a venue near you!
Chrome Daddy Disco
An original twist on Rock-a-billy in RVA since 1989. Never comfortable w/ being labled Rock-a-billy or Psycho-billy etc.. because those are easily worn uniforms with standardized off the rack approaches more often than not. CDD has always been a tight, powerful & entertaining Rock & Roll band. Having seen 19 plus musicians do time with CDD over the last 20 plus years, the one constant in CDD from day one has been the sincere commitment to this home grown genre of front man Sean McClain (me). Humorous, arrogant, and at times caustic, I've known folks to LOVE the show - and some to be REPULSED by it. Never heard of anyone being bored though.
From 1989 till the late 90's CDD was at it's most active, playing up and down the east coast and locally. Bands like the Useless Playboys, Frantic Frank & the Flattops, Glenmont Popes, Flat Duo Jets And Southern Culture on the Skids were bands we often played with in RVA and on the road. As time went on members here and there moved on for different reasons, some having spent several years with the band. Time away from the project was spent dabbling in another local band called Gorgeous for a few years and most recently We did a tribute to the Cramps with the passing of Lux Interior. For a year and a half, the core of CDD was channeling Lux's spirit as true to form as possible. The hand full of shows were memorable and well received.
Highlights over the years... Link Ray fest '93 Chapel Hill, Sleazefests '94 & '95 also in Chapel Hill, Raunch-o Rama in Gainesville Fla, The wrap party for "Homicide" in Baltimore, Got to play CB's, A ton of great shows both here in RVA and on the road with killer bands and a lot of great lasting friendships over the years.
So........... Now my freak ass is feeling twitchy again so I've assembled a tough ass combo to re-emerge as RVA's latest incarnation of Chrome Daddy Disco. Heads WILL roll!
Venue Information:
Parking is available in side lot (by Exxon)

No Smoking/Vaping permitted anywhere inside venue

Bags/purses will be checked at the door.

Must have ID for entry

If you do not have access to a printer, we can scan ticket from your cell phone. Be sure to have your brightness turned all the way up at the door.

Children under 3 years old are Free.

Kitchen is open during all hours of operation.

Appropriate clothing required at all times (tops and bottoms covered).

Venue Information:
The Broadberry
2729 W Broad St
Richmond, VA, 23220