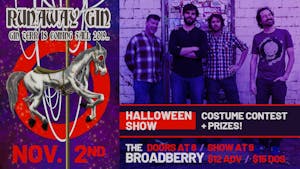 .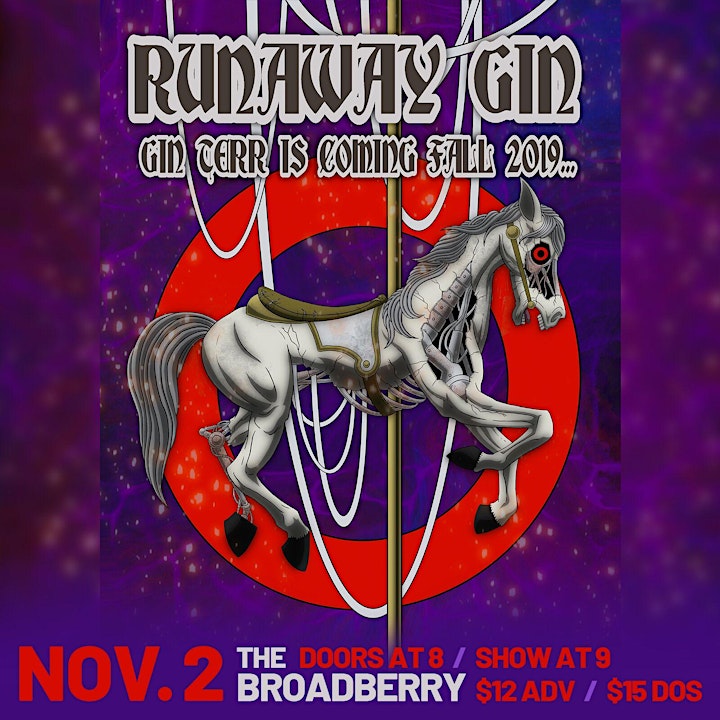 Runaway Gin
With over 300 shows performed since their inception in 2014, Runaway Gin is the World's Most Active Phish Tribute Band. On July 4th, 2015, after the second show of the Grateful Dead GD50 run, Runaway Gin sold out the Hard Rock Cafe in Chicago and catapulting them from a Southeastern regional act onto the National scene.
MEMBER BIOS:
Andy Greenberg - guitar, vocals
Originally from Florence, SC, Andy began playing piano at the age of 5, receiving classical instruction and earning top ratings in the National Piano Guild. At the age of 12 he learned his first chord on the guitar and taught himself to play by ear. Andy started listening to Phish in 1992 while at summer camp. The first song he heard was "Sparkle" and it reminded him of one of his favorite bands at that time: They Might Be Giants. He proceeded to dive head first into the album Rift and soon Phish's whole catalog often stopping to figure out songs on both piano and guitar to satisfy his vehement musical curiosity. Eventually Phish would ride to the top of Andy's list of favorite bands a spot reserved for the likes of the Beatles and Led Zeppelin.
His first Phish show was a gift from his parents for his 15th Birthday- 7 days before his birthday:
Saturday, 11/18/1995
North Charleston Coliseum, North Charleston, SC
Set 1: Dinner and a Movie > Bouncing Around the Room > Reba, Lawn Boy, Punch You In the Eye > Slave to the Traffic Light, I'm Blue, I'm Lonesome[1], Sample in a Jar
Set 2: AC/DC Bag > Sparkle > Free, I'm So Tired, You Enjoy Myself, Contact > Big Black Furry Creature from Mars, Acoustic Army, Big Black Furry Creature from Mars, Cavern
Encore: Bill Bailey, Won't You Please Come Home?[2]
[1] Acoustic.
[2] Dr. Jack McConnell on vocals.
Teases:
· Brick House jam in You Enjoy Myself
Since 1995 Andy has been to well over 100 shows. What Andy has learned from playing Phish : always listen first and foremost - relax and surrender to the flow. There's always a bigger Phish!
Bobby Hogg - bass, vocals
Bobby first discovered Phish as a tween in the early 90's when he stumbled across a tape of 4/16/92 Anaconda Theatre in his big sisters music collection. This exotic music was rather foreign to his underdeveloped ear, and seemed absurdly quirky at first taste. Upon playing the tape for his little brother, the two decided that they did in fact enjoy the sounds emanating from their tape deck, and were eager to keep listening. It is safe to say that over the next few years Bobby suffered irreversible ear damage whilst donning his headphones and cranking his Sony Walkman to full volume, rocking out to the music of Phish late into the night.
Bobby's first show was:
12/30/1996
FleetCenter, Boston, MA
Set 1: Ya Mar, The Sloth, Llama, Gumbo, Reba[1], Talk[2], Funky B%@#$[3], Theme From the Bottom > Good Times Bad Times
Set 2: Timber (Jerry) > Uncle Pen, AC/DC Bag, Guyute, Tweezer -> Lifeboy > Scent of a Mule[4], Slave to the Traffic Light
Encore: Possum
[1] No whistling.
[2] Trey on acoustic guitar.
[3] P.A. cut out.
[4] Page/Mike Mule Duel and Steven Wright ringing a desk bell three times.
Since that show Bobby has seen Phish around 50 times, and is eagerly anticipating many more shows to come!
John Fitzgerald - keyboards, vocals
John began his musical career at the age of fifteen playing shows in local Jersey Shore venues as a solo artist and with a variety of musical acts. He went on to earn his Bachelor's of Music from James Madison University. John moved to Charleston SC and found himself a part of the nationally known and highly respected Charleston music community. "I started working with a number of touring bands and recording projects. I played everything from Grateful Dead tributes (Cosmic Charlie), Funk (The Secrets), and even some Bluegrass (Acoustic Syndicate).
John focuses on the continual development of the craft and pursuit of his musical vision. "Creating music is the catalyst for conjuring emotion. It is paramount. Music has the ability to tweak emotions and take a listener to other realms. Connecting emotionally via music is what it is all about."
John got a Harpua his first show!
06/23/1995
Waterloo Village, Stanhope, NJ
Set 1: Simple > Chalk Dust Torture, Prince Caspian, Reba[1], Ginseng Sullivan > Free > Taste, You Enjoy Myself
Set 2: Runaway Jim -> The Lizards, The Wedge, Run Like an Antelope, Harpua[2] -> Jam[3] -> Llama[3], Good Times Bad Times[3]
Encore: A Day in the Life
[1] No whistling.
[2] Unfinished; with verse of Abba's Waterloo.
[3] John Popper on harmonica.
Teases:
· Waterloo verse in Harpua
John Pope - drums, vocals
John Pope is an American drummer from Charleston, South Carolina. He began playing drums at age 9, taking lessons from a local music shop and listening to drummers like Dave Grohl and Chad Smith for inspiration. Around the age of 13, he became interested in improvisational music and was drawn to the likes of Phish, John Scofield, and Medeski Martin & Wood, among others. John attended his first Phish show at age 14 in Greensboro, NC, where phish closed with an epic First Tube > YEM:
3/1/2003
Greensboro Colosseum, Greensboro, NC
Set 1: Chalk Dust Torture, The Moma Dance, Foam, Lawn Boy, Character Zero > Divided Sky, Mountains in the Mist, Waves > Sample in a Jar
Set 2: Rock and Roll > Wilson > Piper > Also Sprach Zarathustra > Wolfman's Brother -> Boogie On Reggae Woman, Wading in the Velvet Sea > Run Like an Antelope, Carolina
Encore: First Tube > You Enjoy Myself -> Proud Mary[1]
[1] a cappella.
Teases:
· Oye Como Va and Another One Bites the Dust teases in Piper
· Oye Como Va and Daniel Saw the Stone teases in You Enjoy Myself
Throughout high school and college, Pope studied jazz on his own time, largely self-taught. At age 19, he started playing in bars in Charleston, SC. By age 22, Pope was playing in multiple touring bands, most notably Old You, a Charleston-based psychedelic rock / jazz group. He joined Runaway Gin in 2015 and has been instrumental in guiding the band's progress over the past year.
Venue Information:
Parking is available in side lot (by Exxon)

No Smoking/Vaping permitted anywhere inside venue

Bags/purses will be checked at the door.

Must have ID for entry

If you do not have access to a printer, we can scan ticket from your cell phone. Be sure to have your brightness turned all the way up at the door.

Children under 3 years old are Free.

Kitchen is open during all hours of operation.

Appropriate clothing required at all times (tops and bottoms covered).

Venue Information:
The Broadberry
2729 W Broad St
Richmond, VA, 23220